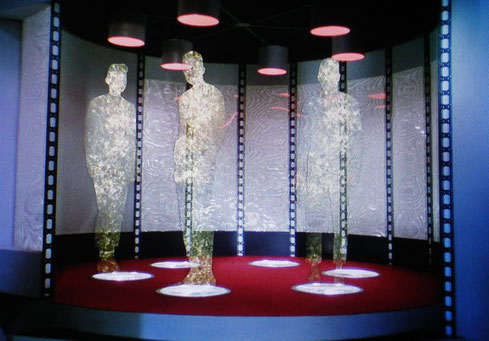 You're Not Really Going to Step onto That Transporter Platform, Are Ya?

I've been having this discussion...well, kind of an argument, with a colleague at work.  His name is Geoff. He's big into sci-fi, like me,  and we've talked a lot about time travel theories like the grandfather paradox, time travel technology, black holes, movies, books, etc. 

The argument we're having is about the transporter technology on Star Trek.  Have you ever thought about how the transporters work? I mean, really work? It seems simple enough:  The computer scans you, breaks you down, then sends your information through a data stream so you can be rebuilt at a new location...
But that's a problem, isn't it?  Because that won't be you arriving at your destination.  That will be a copy of you, whose going to go on living your life.  You died back on the transporter pad because the transporter only copies and transports your information. I feel this is one of those 'nudge-nudge wink wink' situations where everyone who works on the show knows this is a problem, but doesn't discuss it, because then the series could not exist without it.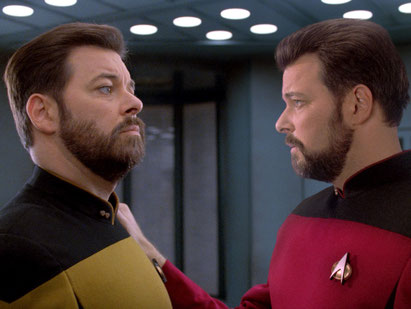 Actually, even the characters on the various Star Trek series seem to know it too, as there's been some discussion around this topic in the actual story-lines.  In the original series, Dr. Leonard H. McCoy (or "Bones" to his friends) made it no secret that he didn't want his atoms scrambled. Lieutenant Reginald Barclay from Star Trek:  The Next Generation had an actual transporter phobia.  But in both cases the characters' concerns were dismissed as trivial, even ridiculous (personally I don't think they suffered from a transporter phobia as much as they suffered from just plain common sense).  The fact that we don't actually know (yet) how consciousness works...let alone how it can be transported, never comes up.
These characters, as well as the viewing audience, are told on the show time and again that transporting technology is extremely 'safe'.  I guess we're forgetting about the time that the transporter split Captain Kirk into two, one who was an 'evil twin'.  Or when Commander William Riker was also split in two, leaving his copy stranded on a planet all by himself for eight years because nobody knew he existed.  Or that Outer Limits episode in which a transporter operation fails during the process of transporting a woman from a space station to a distant planet, and the Operator running the console can't tell if she made it to her destination.  So they wait.  When it's discovered that her copy did in fact, arrive, he has to (regrettably) hunt down and kill the original.  Yes, it weighed on him very much but hey, you can't have two of ya running around, can ya?  Yikes! (if anyone can remember the name of that episode, please weigh in). 

In short?  The transporter sounds like a great plot device, but I wouldn't say it sounds like a safe way to travel.
My colleague Geoff says that he would step into the transporter in a heartbeat in order to be able to explore...well, new worlds, I guess.  When I explain he wouldn't really be doing that, that he would in fact be killing himself - he tells me he understands that (?).  In fact, he 100% agrees with my assessment on how the transporter works - but tells me that my thinking is old fashioned (?!).  I'm still shaking my head and want to insert more question marks and exclamation points in brackets. 

Anyway, how does this relate to time travel?  Well, whether it's Star Trek, Stargate, Terminator, TimeCop or even say Hot Tub Time Machine (any story that requires the time traveler to step into an actual device), there's a common element.  The time traveler has to be broken down and rebuilt somewhere else - after a transfer of information. Michael Crichton's Timeline dealt head on with this problem by having one of the characters admit that with the time travel process, the heroes of the novel (who leave present day) are not the same people when they arrive in 1357 France, because they have been "destroyed, and reconstructed".  According to the novel (the review of which you can read here), the process doesn't hurt apparently. 

Check out this amusing (and amazing) video below on the transporter technology in Star Trek. 

What do you think? Am I right? Is it you arriving at the other end, or not?
Either way, I'm never stepping in there.   
The Trouble with Transporters, with permission of CPG Grey.
---